Events, Visits, Teaching
I do a variety of talks and workshops in schools, book clubs, libraries, universities and the occasional festival or charity event. Plus teaching adults in creative writing. I love meeting anyone who loves stories. Here are my different kinds of events.
THE HANDS-ON STORY WORKSHOP WITH TAKEAWAY RESULTS
Designed to unlock everyone's creativity , this is the ideal antidote to 'Running out of Steam' syndrome.This workshop helps participants create their own story ideas, generate material and develop it into a pattern of events that make a story work. Based on the experimental 'cards' method used by professional writers, it involves group brainstorming and discussion and focusses on structure rather than literacy. Ideal for any age group, it leaves participants with the makings of their own great stories and insider knowledge of how to develop story material in future. More like a fun game than a workshop - you'll be amazed at what you didn't know you had in you! Can be tailored to suit requirements, 1 - 1 1/2 hour minimum. Powerpoint preferred.
THE HERO'S JOURNEY SEMINAR
This is a bit more academic and theoretical than the story workshop and is more suitable for over 16s. It reveals the universal underlying structure behind all stories, the classic mythic form first identified by Aristotle and followed up by Karl Jung, Joseph Campbell and Christopher Vogler. Drawn from my experiences working in TV, books and film, and the screenwriting courses I have attended, it reveals the Twelve stages of the Hero's Journey, the Mythic Archetypes of characters and their dramatic functions and the whole DNA of storytelling that is hard wired into everyone's subconscious pysche. It's what makes every story tick and what makes us all respond to them the world over, throughout the ages! Can be tailored to suit requirements, 1 - 1 1/2 hour minimum. Powerpoint prefered.
To get me into your school,library, festival, museum, book club, bookshop or even your spaceship: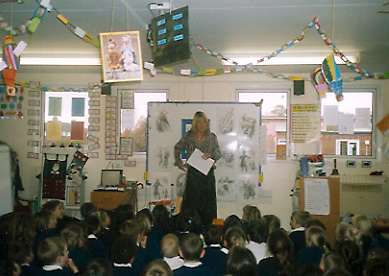 MY PLAYS FOR DRAMA TEACHERS AND STUDENTS
My playscripts for drama teachers, students and youth theatres are available to licence at
There are
3 collections of mini scripts, including monologues, duologues and mini plays for use in classroom or in a performance space, adaptable to Zoom and social distancing, ideal for practice, auditions pieces or staging to an audience. The mini script collections have accompanying teaching resources, including workshop suggestions, improvisation, creative exploration, group discussion and evaluation.
There are two other plays, Kill the Lights, a tense sci fi drama for teenagers, and Nickolai of the North, a stage musical adaptation of my book, complete with sheet music, backing tracks and lyrics. Both will have accompanying teaching resources later this year.
All of these are suitable for key stages KS2 - KS4
ADULT TEACHING
I also teach adults in Creative Writing. In 2005 I tutored on the Pygmalion programme, a European funded development training initiative for children's enterainment.

I also have taught Creative Writing at Central Sussex Community College and since then have done story workshops in universities and at children's film festivals. Recently I have taught at Bournemouth, Kingston, UCLAN and Westminster universities.


AUTHOR 'TOUR' VISITS

I talk about my Nickolai books and the background and inspiration behind them. I do selected readings, illustration displays, demonstrate my working methods with sketches, maps and charts, and sometimes include an interactive game.

I'll also talk about my other work, my background, and like to leave plenty of time for Q & A at the end.

Any length of time, any size audience or age group. Powerpoint preferred but can do without.

Book signing can be done at the end. I can supply the books. Please send letters home and organise for kids to bring the money and assess order numbers.