Lately I have been writing mini scripts to help drama teachers, students and youth groups through these difficult times. My 3 new collections of monologues, duologues and mini plays, available on www.artsonthemove.co.uk
They are suitable for teenagers and young adults and provide fabulous original material for exams, auditions, festivals and performances in schools and youth theatres. Adaptable to Zoom and social distancing.
I have also I been working as script editor on the film adaptation of Nickolai of the North with Gatehouse Productions as well as various book and TV projects www.artsonthemove.co.uk
Your letters....
Many thanks to those of you who have sent me letters about Nickolai of the North complete with lovely illustrations and story ideas of your own. It's always a thrill to hear from you.
Here are some of the wonderful illustrations from your letters shown below.


What next for Nickolai ?
Now the stage musical production has been performed twice I am hoping to get it put on elsewhere. I have just renewed the film option deal so watch this space but don't hold your breath, these things can take years. One day I might write a third book in the series and have an outline plot ready to develop. It will probably be a prequel, delving into the past and exploring Nickolai's legacy and events in the Elfin Kingdom previous to his birth. It will feature Magda as a young girl and explore the reasons why she turned out to be such a horrible witch, and the boy versions of Nickolai's grandfather Frederick and the young Prince Vilmar, who were forbidden friends and pioneered sleigh driving and other great scientific discoveries. Nickolai will also be making a brief appearance.. If you would like to see a 3rd book tell all your friends about the first two – and write in and tell me
Get your SIGNED, FIRST EDITIONS direct from me!
To place your order Email lucydanielraby77@gmail.com or go to http://bookorders.nielsenbooknet.com

CHECK OUT MY OTHER PLAYS - LYMESLIP AND KILL THE LIGHTS ON THE PLAYS PAGE

I do general story workshops, as well as specific author visits, so if you'd like me to come to your school, library or book club, check out the SCHOOLS PAGE
AWARDS
I have worked on many award winning children's TV shows, including Angelina Ballerina, The Hoobs, Animal Stories and Shaun the Sheep, which won a Writers Guild, an Emmy and a Children's Bafta. I am pleased to say it was my episode, Sheepless Nights, which was screened at the ceremony!
Nickolai of the North
was a finalist in the People's Book Prize 2019 and was @booktreats book of the week in December 2019.
It has been nominated for three regional awards so far, which I am delighted about.

The Lincolnshire Young People's Book Award 2006

The Rotherham Children's Book Award 2007

The Highland Childrens Book Award 2006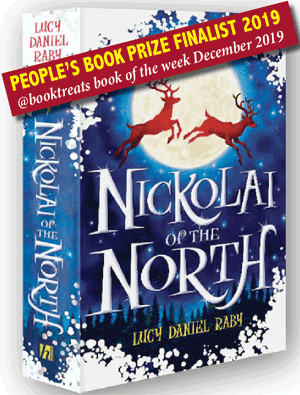 Goddess in Pyjamas
OUT NOW! on Amazon!