Who am I?
Can I just clear something up right away? Many of you will have read the Animal Ark books by Lucy Daniels.

Fab books, but I didn't write them.

Cos I'm a completely different person! I am Lucy Daniel (with NO 's') Raby.

Lucy Daniels
Lucy Daniel Raby

See the difference? Easy to get confused though! Especially since we are with the same publisher! But any similarity in our names is entirely co-incidental.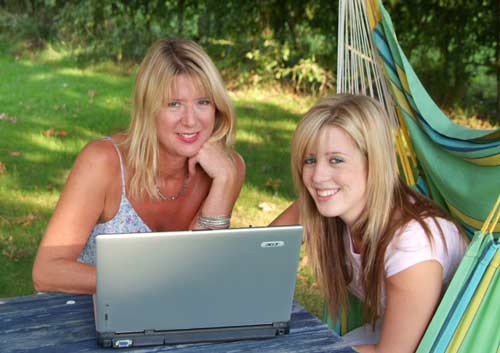 Glad I got that one out of the way!
So, what can I tell you? Although quite new to children's books, I have been writing for children for over twenty years and have been a professional writer all my working life. Apart from a few other books, I have worked as a scriptwriter on many children's TV programmes , including Angelina Ballerina, the Hoobs and my own creation for CBBC , Big Kids. (Look out for it now – it's being repeated.)

I love writing stories for children, whether they're TV cartoons or full length novels. It's like going on an adventure in your head – and the most fun you can have whilst sitting at a desk.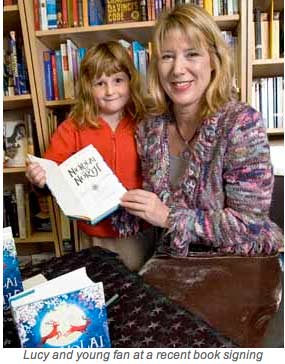 Career details
I'd decided very young that I was going to earn my living as a writer, so after school and university I got a job as an advertising copywriter in an ad agency. It was great fun and I wrote ads and radio and TV commercials for brands like Weetabix, Hoover, McDonalds, Pedigree Petfoods etc. The Ronald McDonald commercials were the most fun because there were always loads of kids in them and it was chaos. I worked with great actors like David Jason, Miriam Margolies and Stephen Fry, casting them as voice overs.

In the late eighties I broke into TV scriptwriting with a short play on Channel 4, called Head Girl, which starred Sting's wife, Trudy Styler. Then I got a job as a team writer on a Saturday morning show called No 73, which starred Sandi Toksvig and Neil Buchanan from Art Attack. That was great fun and that's where I started learning how to write and plot stories.

After that one thing led to another, and I worked on lots of different shows for companies like Hensons, Disney, Hit, ITV, BBC and companies abroad. I now intend to keep writing more books whilst still keeping my hand in with the screenwriting. There's more where this came from – so watch this space!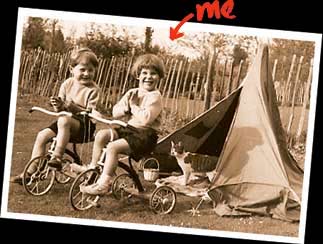 I lived in a little world of my own imagination, although I did have friends as well, some of whom I still see! I used to spend a lot of time in a tree house my Dad built, pretending I was Robin Hood, who is still one of my greatest heroes. My other greatest hero was Pocohontas. I went through a phase where I WAS Pocohontas, and dressed in a home made squaws outfit I'd cobbled together from chicken feathers. I refused to wear anything else and would have worn it to school if they'd let me. I sat in a homemade wigwam all day.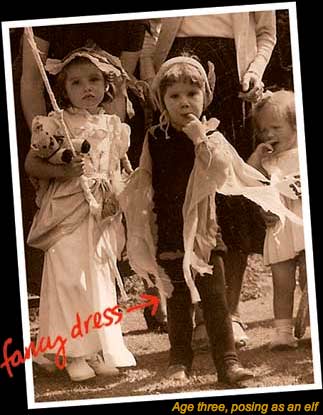 Weird or what? But there you have it – play acting and make believe is important for developing your imagination if you want to write stories.

I started writing when I was about five or six and never stopped. I made up stories and illustrated them. The earliest story I remember writing was called 'The Magic Knitting Needles'. It resulted in global disaster of course and someone had to save the world, which had turned into a ball of wool. I also used to make things, like my own dolls and puppets and sculptures. My godfather who was an actor, gave me a toy stage, so I used to enact plays on it with the puppets I made.

I wrote my first play when I was eight. It was a nativity play all told from the point of view of the donkey in rhyming couplets. It was put on by my nursery school for years. I then wrote an adaptation of 'The Little Match Girl' and persuaded all my friends to be in it. My Mum was stage manager and costume designer and I remember a lot of crepe paper being involved. We put it on at a church hall and raised £1 for Oxfam, which was a lot of money in those days.

I carried on writing all through school and was always annoyingly top in things like English, History etc , winning prizes and stuff, but total crap at Maths and Science. I was forced to give all those subjects up at around twelve. So I hope that makes you feel better.

I was lucky to have great parents who were very supportive and encouraged me in all my artistic endeavours. My sister, husband, neices and daughter have now assumed that role!