SHORT FORM DRAMA AND TEACHING RESOURCES

Lately I have been writing mini scripts to help drama teachers, students and youth groups through these difficult times. My 3 new collections of monologues, duologues and mini plays, available on www.artsonthemove.co.uk
They are suitable for teenagers and young adults and provide fabulous original material for exams, auditions, festivals and performances in schools and youth theatres. Adaptable to Zoom and social distancing.
Conundrums
This collection of mini scripts contains 2 duologues, 2 monologues, and two mini plays with 7 and 4 roles respectively, plus prompts for discussion and suggestions for follow-on devising and improvisation activities. There's a range of genre, styles and tones for all actors and each script is under 10 minutes running time. One mini play is designed specifically for Zoom and the others can easily be adapted for Zoom or for socially distanced performances. They have adult themes and there is some strong language but they are suitable for teenage and young adult drama students and provide fabulous original material for exams, festivals and performances in schools and youth theatres.

Type: script, distance learning
Subject: scripts, techniques and strategies, distance learning
Age Range: KS3, Young Adult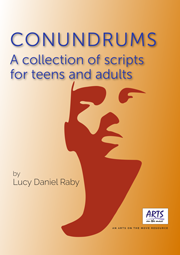 Life Lessons

This collection of original mini dramas contains 2 monologues, 1 duologue/triologue and 2 mini plays for 4-6 roles plus prompts for discussion and suggestions for further devising and improvisation tasks. They can be performed live or easily adapted for online or socially distanced performances. There's a range of styles, tones and genre and the scripts have been written for young adults and teenagers with a mature understanding of adult situations and are suitable for performances in schools, drama workshops and youth theatres.
Type: script, distance learning
Subject: scripts, techniques and strategies, distance learning
Age Range: KS3, Young Adult
https://www.artsonthemove.co.uk/e_shop/resources/life-lessons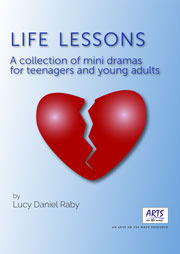 Mini Scripts Drama Pack
A fabulous pack containing a monologue, several duologues and a triologue for schools and youth theatres to perform. Alongside each mini script are prompts for discussion and analysis of the piece, plus great hotseating/interviewing activities and linked creative writing tasks. Loads of brilliant material to support understanding, reading, annotating, creating and performing scripts. This pack is perfect for exams and exam practice, online or Zoom presentations, festivals, drama group performances and lessons in the socially distanced drama studio.

Type: drama pack, script, distance learning
Subject: scripts, general, distance learning
Age Range: KS3, Young Adult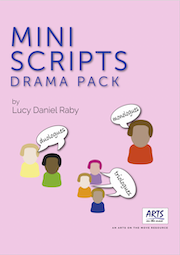 PLAYSCRIPTS
I have worked on a number of plays that have been successfully performed in the theatre.

Nickolai of the North

Have you ever wondered who filled Santa's stocking when he was a boy? Or why he carries out his Christmas mission every year? All is revealed in this two act Christmas play with music. A refreshing alternative to panto, it tells the magical story of Santa's childhood. When villainess Magda destroys his home at the North Pole, young elf Nickolai is rescued by a flying reindeer. We follow his adventures as he grows up amongst humans, realizes he is different and returns to the North Pole to seek his destiny – and ultimately save the world's children from Magda's evil. Lucy has adapted the book and lyrics from her successful children's book of the same name, with 16 sensational songs from established composer Geoff Tinniswood, including score, backing tracks and vocals. Containing traditional seasonal ingredients such as heroes, villains, witches, fairies, reindeer, wolves and goblins, 'Nickolai' is a sparkling family show that provides a fabulous opportunity for ensemble work.

Cast Size: 24 speaking characters with 9 leads and possible doubling.
Running Time: approximately 2 hours plus interval
Themes: family, childhood, destiny
Genre: Christmas family entertainment with music
Script, lyrics, sheet music, backing tracks and cast recordings available. See below

Kill the Lights

Kill the Lights is a tense sci fi drama in one act. On a hot summer's night, a group of squabbling
teenagers are having a sleepover in a lonely farmhouse. When they are attacked by unseen
alien invaders, they are forced to reconcile their differences and work together as a team.
During the course of the night, secrets are revealed as they confront each other and their own
fears, learning more about each other and themselves. This is a good piece for young actors
and ideal for a youth theatre workshop or a one act festival.

Contains language unsuitable for younger audiences

Cast Size: 8

Running time: Approximately 45 minutes (excluding interval)

Themes: Mystery, fear, bravery, friendship, secrets

Genre: Sci fi drama; short form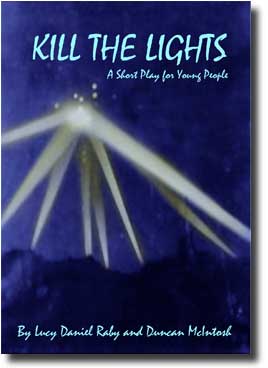 Cover image by Ego trip Media
Lymeslip
(Or Six characters in search of a story)
Set in the quaint little seaside town of Lyme Regis, this literary romp throws together five famous fictional characters from stories inspired in their famous authors during a visit; Anne Elliot from Jane Austen's Persuasion, Bilbo Baggins from Tolkein's The Hobbit, Beatrix Potter's Little Pig Robinson, Fielding's Tom Jones and Sarah 'Driftwood' from John Fowles's French Lieutenant's Woman, plus famous fossilist Mary Anning. When a landslip causes a time slip, her famous Ichysaur is awakened from the dead – along with the fictional characters who have been 'untimely ripped' from their stories at the crucial moment. All they want to do is get back 'home', but before they can, they must help Mary catch her 'Ichy' and put him back to rest. In this hilarious adventure they learn about each other, themselves – and the value of teamwork. Inspired by the research of Natalie Manifold, (
www.literary lyme.co.uk
) this is a fun-filled piece with snippets of song and many opportunities for horseplay. Celebrating some our best-loved literature it is ideal for small groups as part of an evening's entertainment or a one act festival.

Cast size:
6
Running Time:
Approximately 45 minutes to I hour. No interval
Themes:
Love, literature, displacement, teamwork and friendship
Genre:
One Act comedy. Suitable for 9+
IF YOU WANT TO VIEW/PERFORM ANY OF THESE PLAYS:
Schools, Youth Centres and Amdram: Available as a download with licence from
www.artsonthemove.co.uk